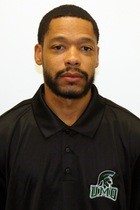 Cornelius Snow joined the University of Mount Olive men's basketball coaching staff in April 2016. The 2018-19 season marks Snow's third season as an assistant coach.
The Trojans rebounded during Snow's second year as an assistant coach to finish the season 17-12 and 13-6 for a third place spot in the conference standings. UMO's defense was a constant force throughout the season that came full circle when junior Jamaal Matin earned recognition at the end of the season as the Conference Carolinas Defensive Player of the Year.
In his first season as an assistant coach, Snow helped the Trojans finish in the top-eight of the Conference Carolinas standings finishing the season with an 8-12 conference mark. Under Snow's guidance, sophomore Jamaal Matin was named to the third-team all-conference despite the teams 9-20 overall record.
A native of Fayetteville, North Carolina, Snow came to Mount Olive after a three-year stint as assistant coach at Averett University following his four-year playing career at N.C. Wesleyan College. While at N.C. Wesleyan Snow played for David Doino, an assistant coach at N.C. Wesleyan, who became the Averett head coach.
While at Averett, Snow helped coached the Cougars to a 45-35 overall record and a 26-16 conference mark in three seasons as an assistant men's basketball coach. Snow helped coach the Cougars to the USA South Conference tournament semifinals during the 2016-17 season. The Cougars ended the year 12-15 overall and 9-5 against conference foes.
During the 2015-16 season, Snow helped guide Averett to a 15-11 overall record and a 6-8 mark in conference action. He helped produce four USA South All-Conference selections, including two USA South First Team performers.
In 2014-15 his team went 18-9 overall and 11-5 in conference action while claiming the USA South Conference regular season championship title.
In addition to coaching basketball, Snow was named the head coach of Averett's men's and women's cross country programs in July of 2015. Under the direction of Snow, the Averett University men's cross country team claimed fifth place at the USA South Conference Championship while the women's team took the eighth place. Two of his student-athletes, one male and one female, were named to the USA South Conference All-Sportsmanship Team following the 2015 cross country season.
As a men's basketball student-athlete for the Battling Bishops, Snow was a member of N.C. Wesleyan's back-to-back USA South Conference championship teams, including being a captain on the 2010-11 squad.
Snow also succeeded in the classroom, earning USA South Academic All-Conference honors in three times. He also was a member of the 2011-12 National Association of Basketball Coaches All-Academic Team.
Snow graduated from N.C. Wesleyan in 2013 with a bachelor's degree in accounting and business. He also earned his master's degree in business administration from Averett in 2015.